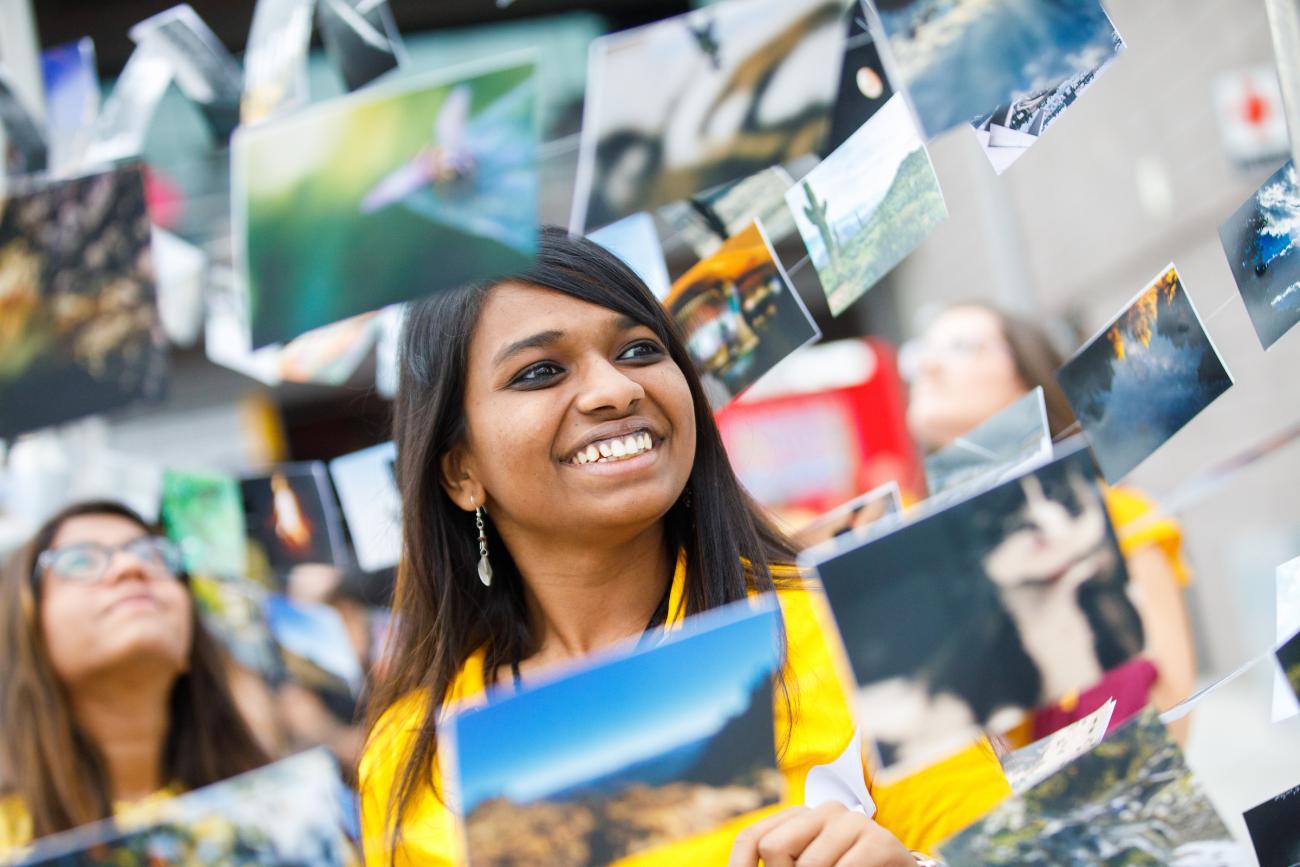 The School of Historical, Philosophical and Religious Studies
Exploring what makes us most human.
Deepen your understanding of the past and present to help create a bright future at the largest transdisciplinary school in the humanities at Arizona State University. The study of history, philosophy, religious studies, Jewish studies and Asia studies will teach you a broad skill set to help you excel in future careers. With on-ground and online degree programs available, you are joining an academic community that spans across the world.
Become a leader in the global workforce, solve the problems of tomorrow and understand the complex issues through our humanities degrees.
Our graduates leave ASU ready to change the world. Our students and alumni combine their passions with the skills they acquire with us.

Meet Naruro.

She is a refugee, activist and 2020 SHPRS graduate. Her life, her knowledge and her voice have led her to pursue her dream of becoming a human rights lawyer.
Our faculty and advisors care
When you choose to study here, you'll be in good company with scholars who share your interests, faculty who interact on a personal level and academic advisors who help you navigate through college life. We're here to make sure you have the best college experience imaginable.
Top online programs
We are a leader in online education. Since 1999, we have been offering courses online to thousands of students around the world. Our online programs mirror our on-ground programs, allowing online students to experience lectures, discussion and faculty feedback in the same way their on-ground counterparts do.
Ready for any career
As a student, you'll learn how to write clearly, craft effective arguments and communicate your ideas fervently. The skills you acquire will be highly valuable in any career venture. Our alumni are employed as educators, museum curators, social workers, politicians and journalists.
SHPRS faculty are leaders in humanities research
Unfinished Partitions in South Asia and the Making of Miyahs, Biharis, and Christians into Noncitizens

History professor Yasmin Saikia and religious studies associate professor Chad Haines are leading a project funded by the National Endowment for the Humanities to highlight groups in South Asia who are marginalized because of their religious beliefs and cultural backgrounds. Saikia and Haines were awarded $249,952 toward the project "Unfinished Partitions in South Asia and the Making of Miyahs, Biharis, and Christians into Noncitizens.
Journal of the Plague Year: An Archive of Covid-19

A Journal of the Plague Year: An Archive of Covid-19 was initiated by Catherine O'Donnell, Richard Amesbury, and Mark Tebeau in SHPRS. A curatorial collaboration between institutions, organizations and individuals across the globe, this digital and public archive grows every day, collecting in real-time. The digital archive is collecting everything, including written first-person accounts, photographs, videos, audio recordings, screenshots of the news, emails, social media posts and a variety of memes. 
Beth Hebrew Synagogue Archival Project

An interdisciplinary team of researchers and students is investigating the stories encapsulated in Beth Hebrew, a mid-century synagogue. These stories begin in France when the Loewys saved 1500 people from Nazi persecution. Their story became local when they founded Beth Hebrew as the first Orthodox synagogue in Phoenix. Recently, it was rescued from teardown by Michael Levine, who is passionate about historical preservation. Five students are conducting research to unearth the stories.