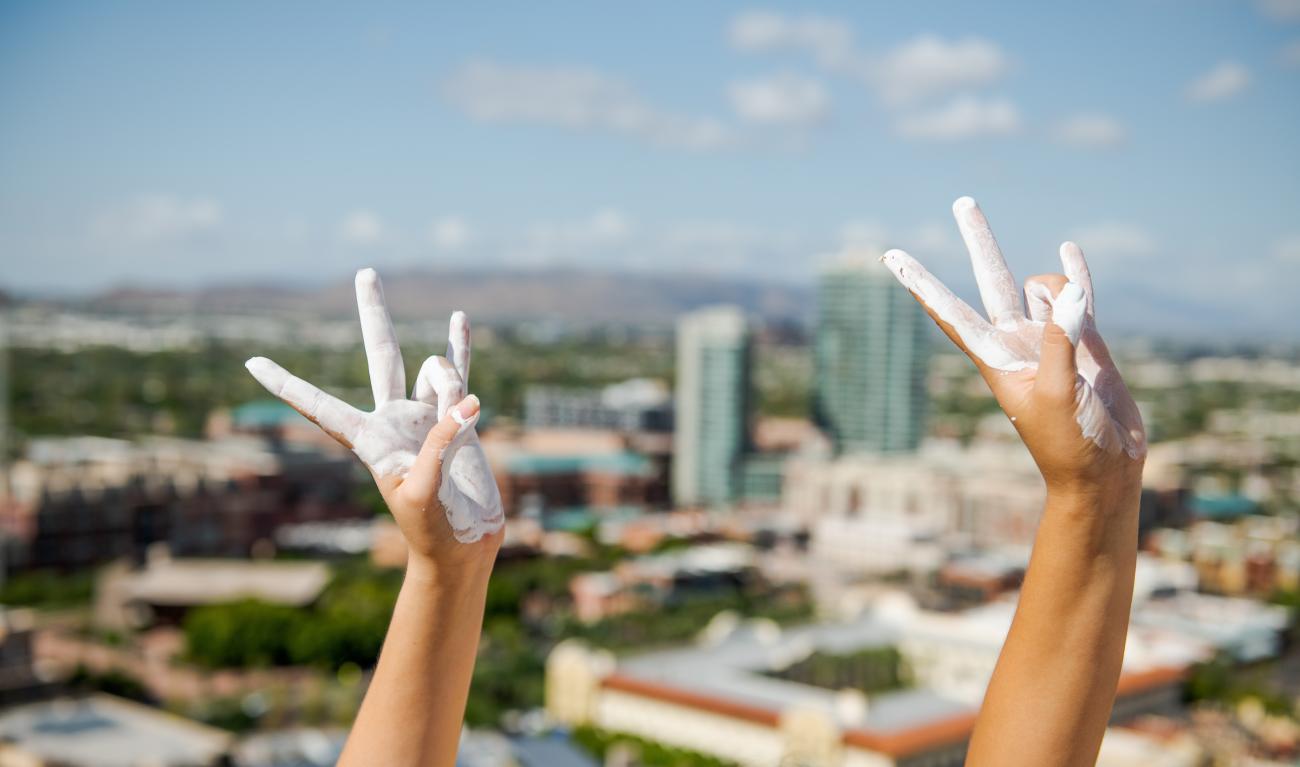 Undergraduate Scholarships
Thanks to the generous philanthropy of our donors, you are able to extend your opportunities when you apply for a scholarship. Besides the degree-specific scholarships available through our school, we encourage you to explore other scholarships available at ASU.
Please note: All applications are due on February 15 unless otherwise noted. Be sure to check scholarship portal for exact deadlines.
General Scholarships
The College of Liberal Arts and Sciences Scholarships
The College of Liberal Arts and Sciences is proud to offer a variety of scholarships and awards to our students. These scholarships may be awarded based on merit, financial need or specific academic criteria.
Explore all your funding options, from major-specific awards in our schools and departments to undergraduate research scholarships and study abroad scholarships.
SHPRS Student Support
The ASU School of Historical, Philosophical, and Religious Studies (SHPRS) Student Emergency Assistance Program was established to help students in distress due to the COVID‐19 pandemic. Funded by donations from the SHPRS community, the program is a small gesture in an overall University strategy to support the health and well‐being of SHPRS students for the duration of this crisis. This fund was established to help SHPRS students in the event of an unexpected emergency. The amount of funds available to distribute is limited. Not all requests will be funded or funded in full.
Philosophy Scholarships
Christine Sato Memorial Scholarship in Philosophy
The Christine Sato Memorial Scholarship was established to support an undergraduate student pursuing a philosophy degree in SHPRS. The scholarship was established in memory of Christine Sato, who earned her philosophy degree from ASU in 1990. During her life, Christine worked in the Governor's Office of Strategic Planning and Budgeting, was credited with helping to make the new Arizona State Hospital a reality, and was dedicated to serving the behavioral and public health needs of Arizona residents. The $1,000 scholarship is a tribute to Christine's dedication to education and to her efforts to always help others.
Requirements
Please submit a copy of your resume and essay about your goals.
Douglas G. Arner Academic Freedom Scholarship
The Douglas G. Arner Academic Freedom Scholarship was established in 2006 to recognize Professor Arner's passion for academic freedom and career achievements in the field of Philosophy. He was a pivotal member in establishing the Department of Philosophy, served as chair of the Department of Philosophy from 1962-1972, and taught at ASU for 28 years.
He was a deeply principled man whose values and ideals governed the actions he undertook and the direction of his life. Of these principles, the concept and importance of academic freedom figured prominently in his career. Through the generosity of Dr. Arner's son John, former students, colleagues and friends, the $1,500 scholarship creates a legacy that will benefit many generations of undergraduate students majoring in philosophy.
Requirements
Submit an original essay on the importance of academic freedom.
Philosophy Essay Contest
The Philosophy Essay Contest annually recognizes a high-quality undergraduate essay on any topic in philosophy.
Requirements
Essays are to be typed, double-spaced between 3,000 and 6,000 words (double-spaced) in length and any philosophical topic. Use either PDF or Word format. Essays will be blind reviewed, and therefore should contain no personal identifying information—do not put your name in the document. Please verify that your name is not included in the file properties/metadata. Only one essay per student.
Religious Studies Scholarships
Friends of Religious Studies Scholarship
The Friends of Religious Studies Scholarship is an annual $1,000 scholarship awarded to an undergraduate student who has declared a major in religious studies. Consideration will be given to academic merit and to the student's commitment to the field of religious studies.
Requirements
Please submit a short essay about why you chose religious studies as a major. Please address why studying religious studies is important to you and to society.
Norton and Ramsey Religious Study in Israel Scholarship
The $2,500 Norton and Ramsey Scholarship is named in honor of the Reverend Jenny Norton. Jenny received her BS in Justice Studies with a minor in Religious Studies in 1993 from ASU. She completed her graduate work at Fuller Theological Seminary. After denominational ordination, she was assigned to serve her church as assistant pastor and appointed to a position as an auxiliary chaplain at the Arizona State Department of Corrections. Her work continues that of her father, Ralph Norton, in Arizona's state prisons. Jenny holds a personal awareness and passion for religious studies. This fund is established as an outgrowth of and commitment to that ideal.
Requirements
The amount available for award is to be used to provide support for academic study in Israel, including a visit and possible internship with a university in Israel. The scholarship is not to be used to fund travel for international students to the United States.
Recipient is expected to return to ASU for a minimum of one semester prior to graduation so that they may share the study and travel experience with other students and faculty.
Please submit one essay regarding your goals and another regarding your impact on your field of study; address why you selected Religious Studies as your major/minor.
Steve and Margaret Forster Memorial Scholarship in Religious Studies
The $5,000 Steve and Margaret Forster Memorial Scholarship provides scholarship for students who have a documented major and/or minor in Religious Studies.
Requirements
Please submit one essay regarding your goals and another regarding your impact on your field of study; address why you selected Religious Studies as your major/minor.
Political History & Leadership Scholarships
Asia Studies Scholarships
Warner-Fong Scholarship
Lilly Fong established the $1,000 Warner-Fong Scholarship in honor of Ila Marie White Warner for her inspiring example of service to the community and for her love and loyalty to ASU and in honor of her parents, Ong C. and Helen Hing. Lilly Fong earned her B.A. in Education from ASU in 1949 and was the first Asian-American school teacher in Nevada. This scholarship is a commemoration of Ms. Fong's dedication to supporting students.
Requirements
Please submit Impact on Field of Study Essay and address why you chose Asia Studies as a major, what kind of impact you hope your studies will have on your life and what kind of impact you hope to have on your community and your world with a degree in Asia Studies. Deadline is July 4.
Guilford A. Dudley Memorial Prize for Excellence in Asian Studies
Guilford A. Dudley was a professor of history at Arizona State University for 16 years, introduced Asian Studies to ASU and was the founding director of the Center for Asian Studies. This memorial fund was established by his colleagues and friends to remember Guil and his passion for Asian history. The award aims to recognize the highest achieving student in Asian Studies.
Requirements
Submit a letter of support from a faculty member and a page-long motivation or cover letter.
Sage Family Southeast Asian Studies Scholarship
The purpose of the scholarship is to support travel and study abroad in Laos and/or any of the following countries: Thailand, Indonesia, Cambodia, Vietnam, and the Philippines. It is uniquely available to undergraduate students at Arizona State University. The Sage Family Southeast Asian Studies Scholarship is a tribute to William W. Sage's interest in and lifelong work in Laos and Southeast Asia and is provided in loving memory and honor of his parents, Lloyd G. and Twyla M. Sage.
To apply for the scholarship, please read the eligibility requirements carefully. Recipients must manage their own arrangements for travel and accommodations. Completion of the application form must ensure the applicant meets the eligibility requirements.
Eligibility
Students of all majors are invited to apply. Some prior study of Southeast Asia at ASU is preferred, but not required.
Applicants must be enrolled as a full-time, undergraduate student at the time of application and have completed at least 56 semester hours or four (4) semesters of study.
Applicants agree by signing the application from that, if awarded the scholarship, they will: 1) submit, within three months of completing the scholarship, a trip report of approximately six pages (c2,000 words) reflecting on their travel and experience or, alternatively, a video report of equal substance; and 2) make at least one public or classroom presentation at ASU about their experiences; 3)possess or acquire travel insurance through ASU Travel registration.
Applicant agrees by signing this form to: 1) apply for and receive a Passport; 2) abide by the laws of the countries in which they may travel; 3) comply with the Arizona Board of Regents Student Code of Conduct; and 4) enroll in the Smart Traveler Enrollment Program (STEP) recommended by the ASU Study Abroad Office, https://studyabroad.asu.edu/.
Financial need is not required. It is suggested that students inquire at the ASU Financial Aid Office if there is a question as to whether receiving this scholarship will impact their financial aid.
Application
The completed Sage Family Southeast Asian Studies Scholarship application form.
The applicant's name should appear at the top of each page.
A copy of a transcript that includes grades from your most recently completed semester (unofficial copies are acceptable).
Two (2) letters of recommendation from professionals/professors who can attest to the potential for success in academics at ASU and the character of the applicant. Each letter should be written on letterhead stationery and submitted to Asia@asu.edu with Sage Scholarship on the subject line.
Transcripts or letters of recommendation being sent under separate cover must also adhere to the deadline of February 28.
Applications may not be faxed. The application may be submitted electronically to Asia@asu.edu (with Sage Scholarship on the subject line)
Materials due by February 28.